Participation
What are Event-Related Potentials?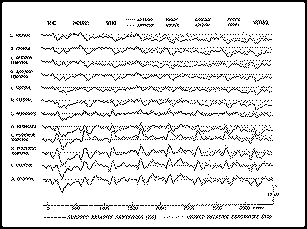 Everytime you see, hear, or feel something, there is electrical activity in your brain related to that event. Those electric potentials can be recorded off the scalp. The amplitude and polarity of the potentials, as well as when they occured, where they occurred, and how long they lasted, are recorded. This information is later analysed by computer to provide clues as to what processes must be taking place. ERPs help cognitive psychologists make guesses as to what kinds of programs your brain is running in response to certain problems.
Study Participation
What happens
in a brain wave study?
Can I get paid or receive course credit
for participation?
Requirements for participation
in a language-based ERP experiment. For non-language-based experiments, these requirements are relaxed (left-handers and bilinguals are most welcome.)
The studies are done in
Room 105 of the Cognitive Science Building
. If you have any questions about the experiments, call 858-534-2440.
What if I need to cancel?
Please call the lab at 858-534-2440 at least 24 hours in advance of your scheduled session if you need to cancel. Even if you learn at the last moment that you can't make it, please phone to let us know.